By JesseLangley on Aug 24,2011
The iPhone has the hardware and all the power necessary to compete with the best of portable gaming solutions. Unfortunately, with tiny speakers, no buttons and only semi-precise touch controls, it leaves something to be desired. Invest a few dollars in something other than the latest app, and you can make your iPhone or iPad a gaming, organization and all-around omnipotent powerhouse.
Pogo Stylus, $14.95
Sometimes you need a little more control than what you can get from thumbs that are one sixth the size of your touch screen. Whether you're sorting through your calendar, scheduling classes for your online degreeor attempting to use the impossibly tiny version of Office, occasionally the need arises to point with a finer tip. Enter left stage: the Pogo Stylus. Unlike some stylus designs, the Pogo stylus has a blunt end to protect your screen from damage.

AirCurve Play, $17
Game developers tend to put a lot of work into the soundtracks of their games. Give them their due by listening to it on the AirCurve Play, a state-of-the-art, light-on-the-budget speaker system. The speakers are portable and run on the prayers of audiophiles instead of batteries. The system is also great for students who have limited room in their backpacks and lots of friends to share their latest music or game finds with.
iCade iPad Arcade Cabinet, $99.99
Every year, the popular geeky commerce site publishes a list of fake products on April Fool's Day. Some, like Canned Unicorn Meat, are met with outrage by consumers. Others become popular enough that people actually want them to be real. Such was the humble beginnings of the iCade. The iCade ingeniously combines eight buttons and one retro joystick with a retro arcade-style cabinet. Atari partnered with Think Geek to release 100 classic games that are compatible with the controls.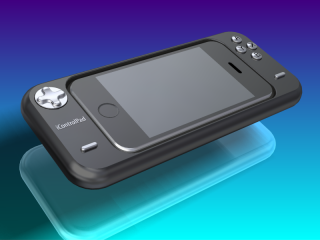 iControl Pad, $74.99
If you're looking to fully replace your PSP or DS and you're willing to spend a little money, check out the iControl Pad. The pad will add a surface that contains all the buttons and joysticks you could ask for. The system will actually go between your iPhone, iPod and iPad thanks to its universal adapter. The controls work in sync with most emulators available on the App Store and are great for making good use of your downtime in between classes or while you're travelling.
Fling Mini, $24.95
A cheaper and more portable solution to iPhone game controls, the Fling Mini is optimized to work with hundreds of different games. The controls do sit on the screen itself, but the section touching the screen is clear to minimize the distraction. Games have to be optimized in the development stage to work with the Fling Mini controls, but hundreds of developers have jumped on board.
FreeLoader Pro Solar Charger, $79.99
Sometimes there aren't enough wall outlets in the world to help you satiate your thirst for Rage HD. Games—especially those with superior graphics—eat battery power like no other app you can use. If you're close enough to a window or frolicking in the great outdoors, keep the Freeloader close by and you can harness the power of the sun to give serious one ups to your batteries' life bar.